Thanksgiving means mashed potatoes, stuffing, rolls … and venison!
With Thanksgiving right around the corner, it's time to focus on spending time with your family and friends, relaxing at home … and deciding what food to cook. Each of these recipes has a holiday flare and all feature venison. From main courses to side dish 'Scotch' pies, you'll be sure to find the perfect addition for your Thanksgiving feast in this festive venison collection.
Venison Roast with Cranberry Sauce Recipe
Hank Shaw enjoys hunting, fishing and foraging near Sacramento, California, then creating delicious recipes from his day's work, like this Venison Roast with Cranberry Sauce Recipe.
Ingredients:
2 to 5 pounds venison roast
Vegetable oil to coat
Salt and black pepper
2 cups cranberries
⅓ cup maple syrup
Zest of an orange, sliced into strips with pith removed
¼ teaspoon cloves
¼ teaspoon cinnamon
2 pounds potatoes, peeled and chopped
Salt
½ cup heavy cream
¼ cup butter
1 teaspoon white pepper
Get the Recipe: Venison Roast with Cranberry Sauce Recipe
---
Venison Hunter's Pie Recipe
Easy-to-make and great as leftovers, this Venison Hunter's Pie Recipe is a complete meal in every slice.
Ingredients:
3 large russet potatoes, peeled
½ cup of milk
2 tablespoons butter
2 ounces shredded extra-sharp white cheddar, plus extra
1 tablespoon oil
1 ½ pounds ground venison
1 large onion, chopped
1 teaspoon of chopped fresh thyme
4 cloves of garlic, minced
1 tablespoon of tomato paste
3 tablespoons of all-purpose flour
3 dashes Worcestershire sauce
2 cups beef broth
½ teaspoon salt
¼ teaspoon freshly-cracked pepper
½ teaspoon celery seed
Frozen peas and carrots, to taste
Fresh parsley for garnish
Get the Recipe: Venison Hunter's Pie Recipe
---
Cajun Smoked Venison Neck Recipe
Anyone that has prepared venison neck before will tell you the best way is to smoke the meat and then cook it in wine.
Ingredients:
1 deer neck, bone in
2 Vidalia onions, roughly chopped
3 bell peppers, roughly chopped
6-8 stalks celery, roughly chopped
4 portobello mushrooms, roughly chopped
1 fresh whole garlic (6 bulbs)
1 bunch green onions, chopped
Fresh basil chiffonade
3 cups beef stock or demi glaze
1 cup red wine
1 ring smoked kielbasa sausage
Dry Rub Ingredients:
4 tablespoons blackened steak seasoning
2 teaspoons cayenne pepper
1 tablespoon Zatarain's Pro Boil (available online)
Get the Recipe: Cajun Smoked Venison Neck Recipe
---
Venison 'Scotch' Pies Recipe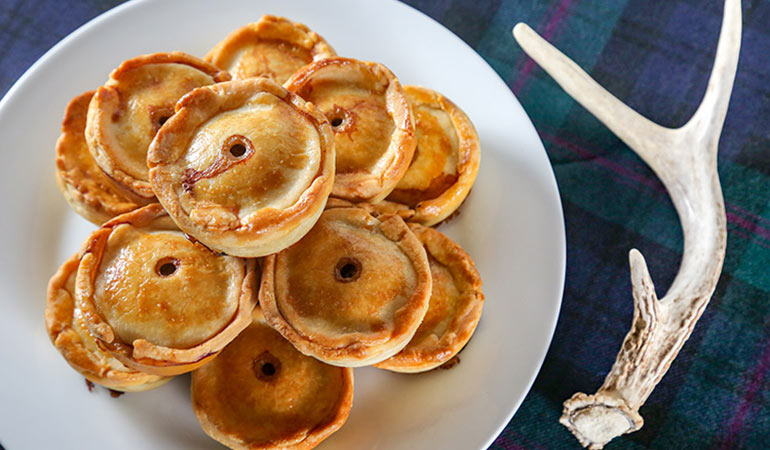 These "Scotch" pies are filled with ground venison and gravy, making them the perfect handheld treat.
Ingredients:
1 pound ground venison (including 20 percent pork/beef fat)
1 teaspoon salt
¼ cup room temperature brown gravy (homemade or store bought)
Freshly ground black pepper, to taste
¼ teaspoon ground nutmeg
2 teaspoons finely minced fresh sage
1-2 tablespoons butter
Hot Water Crust Pastry:
200 grams (.44 pound) lard (try to find minimally processed lard)
1 cup water
500 grams (1.10 pounds) all-purpose flour
1 teaspoon salt
1 egg, beaten
Special Equipment:
12-cavity nonstick muffin pan
Glass cup with a sharp rim, roughly the same diameter as muffin cavity
Small funnel
Get the Recipe: Venison 'Scotch' Pies Recipe
---
Venison Mincemeat Pie Recipe
A recipe for homemade mincemeat pie made with ground venison, fruit, spices and brandy.
Ingredients:
2 cups ground cooked venison
3 cups chopped tart apples
1 cup chopped suet (can substitute pork back fat)
¾ cup seedless raisins
¾ cup currants
¾ to 1 cup stock
½ cup chopped dried apricots (optional)
4 tablespoons apple or beach plum jelly
2 tablespoons blackstrap molasses
1 ½ cups light brown sugar, tightly packed
2 teaspoon cinnamon
1 teaspoon cloves
½ teaspoon ginger
½ teaspoon nutmeg (or mace)
¼ teaspoon allspice
¼ cup cider
Brandy, to taste
Get the Recipe: Venison Mincemeat Pie Recipe
Article and Photos Courtesy of