Congress signed an Act establishing Yellowstone National Park "as a public park or pleasuring-ground for the benefit and enjoyment of the people" on March 1, 1872, and placed it "under exclusive control of the Secretary of the Interior." There are certain places in the United States that can take your breath away because of their beauty or unique one-of-a-kind features. Fortunately, many of these exceptional treasures are federally protected by the National Park Service to preserve their natural integrity so people can enjoy them for many years to come. In total, the U.S. national parks cover approximately 52.2 million acres. Take a close look at these ten National Parks you have to see to believe.
Of all the questions which can come before this nation, short of the actual preservation of its existence in a great war, there is none which compares in importance with the great central task of leaving this land even a better land for our descendants than it is for us.Theodore Roosevelt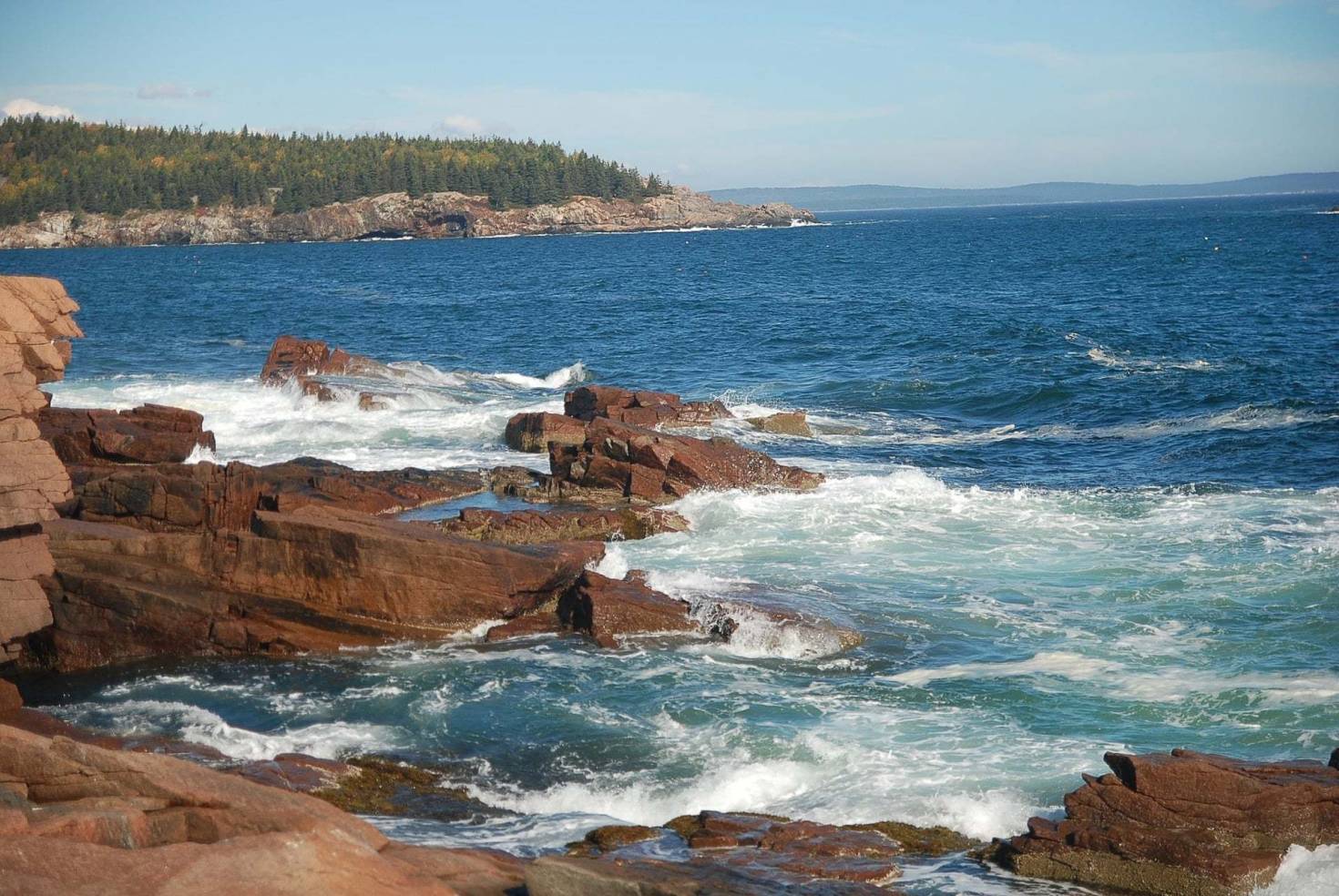 Located on the coast of Maine, Acadia National Park offers a variety of activities as well as immaculate scenery, plants, and wildlife. Hiking and biking along the peaceful roads, canoeing at the lake, swimming at the beach, going on a guided tour, and taking a cruise to see seals and possibly whales are among the adventures available at this popular park. It's home to Cadillac Mountain, the tallest mountain on the U.S. Atlantic Coast (1,530 feet), where crowds gather many mornings to witness the sunrise. Why? You may ask. It's the first place to view the sunrise in the United States between October 7 and March 6. Jagged mountains on Mount Desert Island, meadows and valleys, soggy woodlands, and picturesque shorelines are part of what make this 47,000-acre playground so attractive.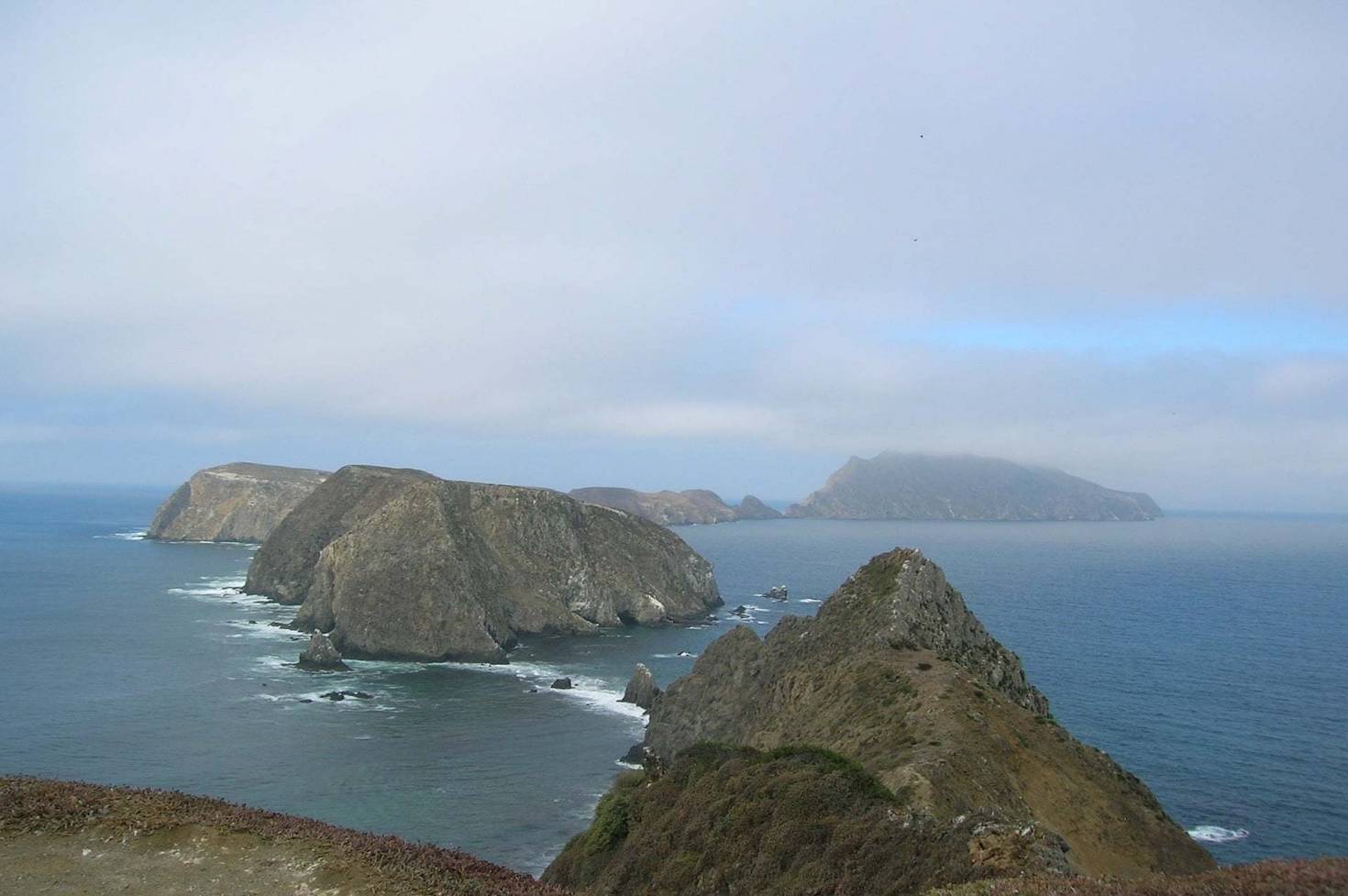 Situated 11 miles off the southern coast of California, Channel Islands National Park includes 5 of the 8 Channel Islands in the Pacific Ocean. It's all about serene solitude here where there's no lodging, restaurants, or stores, and the only way to get there is by boat or plane. People like to put on their hiking boots and take in the natural and cultural resources. A unique way to experience the magical marine life is to kayak the park and witness over 150 plants and animals found nowhere else on earth (such as an island fox). The largest aggregation of blue whales gather here every summer. Camping is available with reservations on National Park Service campgrounds. Nicknamed the "Galapagos of North America," the islands' isolation has left them largely undeveloped, making them the perfect 250,000-acre site to go exploring.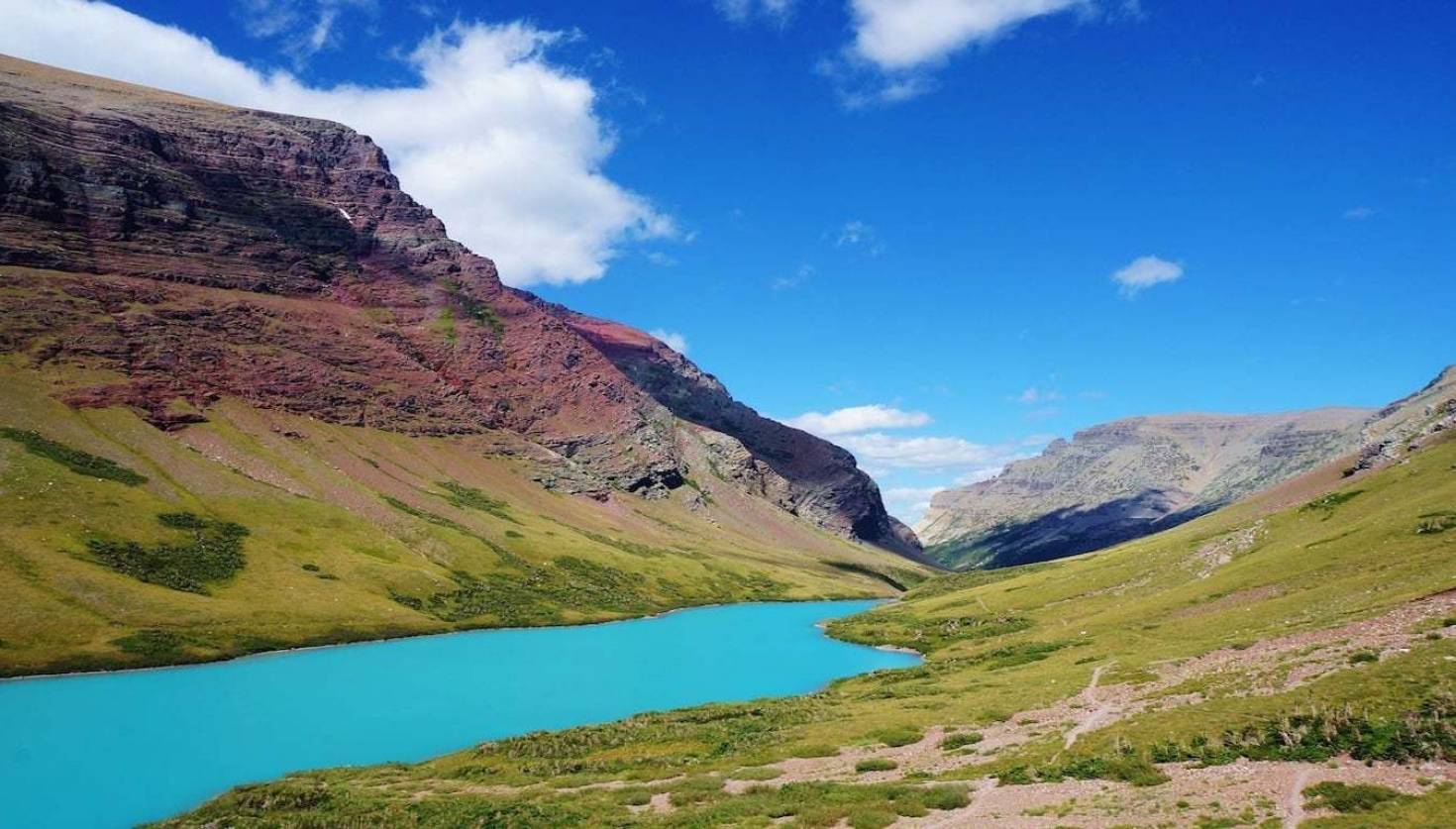 Spanning through Montana in the U.S. and British Columbia and Alberta in Canada, Glacier National Park has some of the most spectacular scenery you'll ever see. The colossal mountains, vast valleys, and gorgeous lakes were created by 150 glaciers, of which only 25 remain today. Take a boat tour of the beautiful Swiftcurrent Lake, stay at the Many Glacier Hotel with scenic views of mountains and the lake, rent kayaks and motorboats, or take a bike or tour bus ride along the 52-mile Going-to-the-Sun Road. Nicknamed the "Crown of the Continent Ecosystem," water runs down the Triple Divide Peak and flows in 3 different directions, eventually making its way to the Pacific Ocean, the Gulf of Mexico, and Hudson Bay. Stunning waterfalls, vibrant wildflowers, and interesting wildlife including grizzly and black bears, moose, bighorn sheep, and wolves make up this incredible 1 million-acre park.
Located in the Coconino and Mohave counties in Arizona, Grand Canyon National Park is possibly the most well-known national park in the U.S., and is one of the Seven Natural Wonders of the World. The park's main attraction is the overwhelmingly massive ravine that measures a mile deep and up to 18 miles wide. At the bottom lies the Colorado River, which is responsible for carving the canyon and its many layers. Around 5 million people visit each year to see the vast view from the South Rim. Far fewer people each year hike or paddle to the bottom of the canyon because it takes a lot of time and effort. Some of the world's most challenging whitewater rapids are available to raft if you dare. Along with the giant gorge and the intense rapids, cool forests on the North Rim and some of the United State's cleanest air make this 1.2 million-acre attraction the 2nd most visited National Park (behind the Great Smoky Mountains National Park).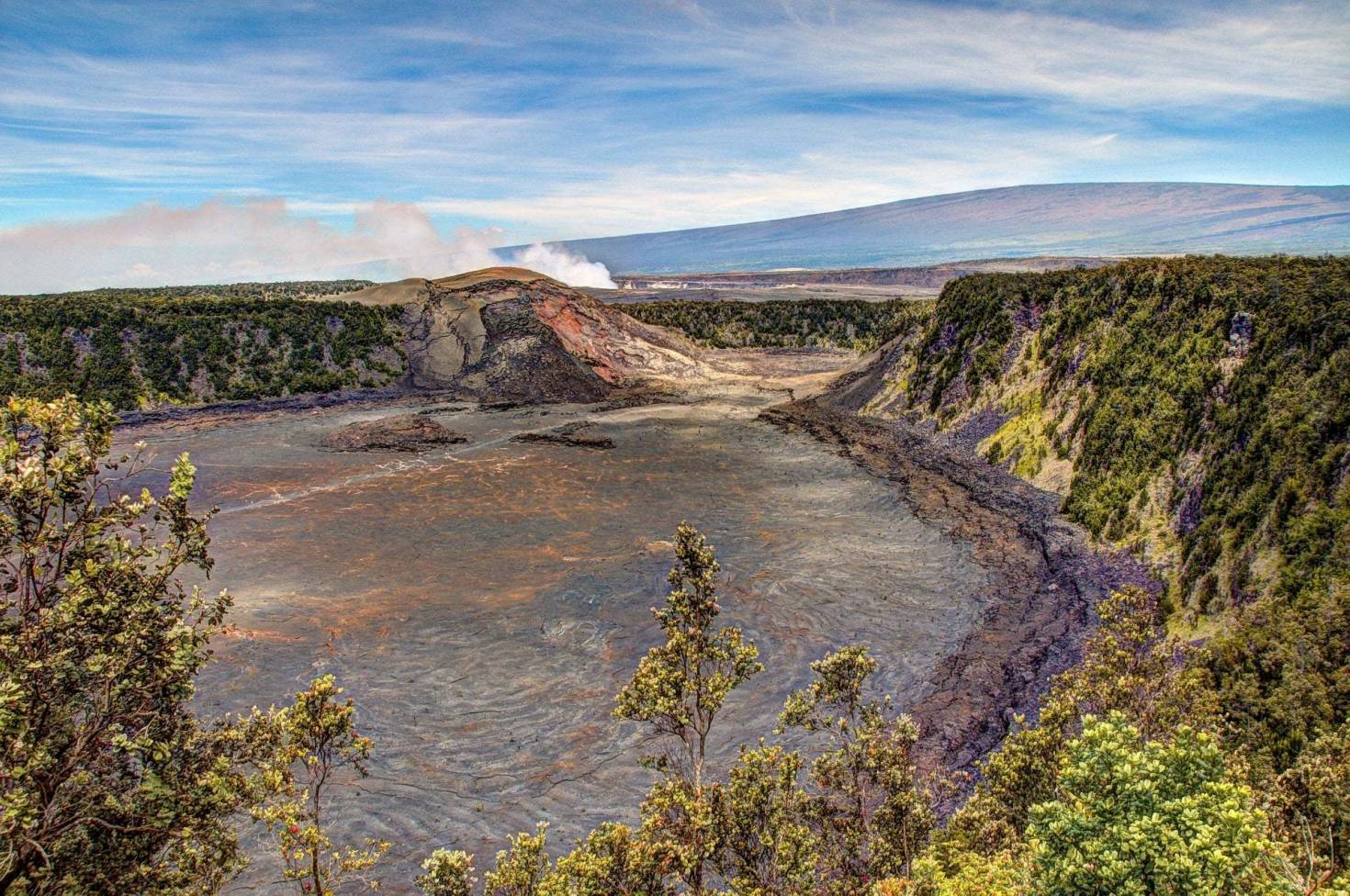 Close to the Hawaiian city of Hilo on the Big Island, Hawai'i Volcanoes National Park provides a rare opportunity…to experience active volcanoes and watch new land almost instantaneously form. Kīlauea, one of the world's most active volcanoes, and Mauna Loa, the world's largest subaerial volcano are located in the park. Its elevation ranges from sea level to the top of Mauna Loa (13,677 feet). Because of Mauna Loa's eruptions and lava fields, the volcanic park is a major worldwide geologic research site. Daily updates are provided on lava flow and eruption data. You can travel up to find a glowing crater, or down to the sea to witness lava flowing into the ocean, constantly adding land to the island of Hawaii. Getting a face full of steam at the steam vents, observing the yellow hills of the Sulphur Banks, going to the Halema'uma'u crater and the Jaggar Museum, hiking trails that overlook huge lava caused deserts, and walking through dark lava tubes make this 320,000-acre place something you won't find anywhere else.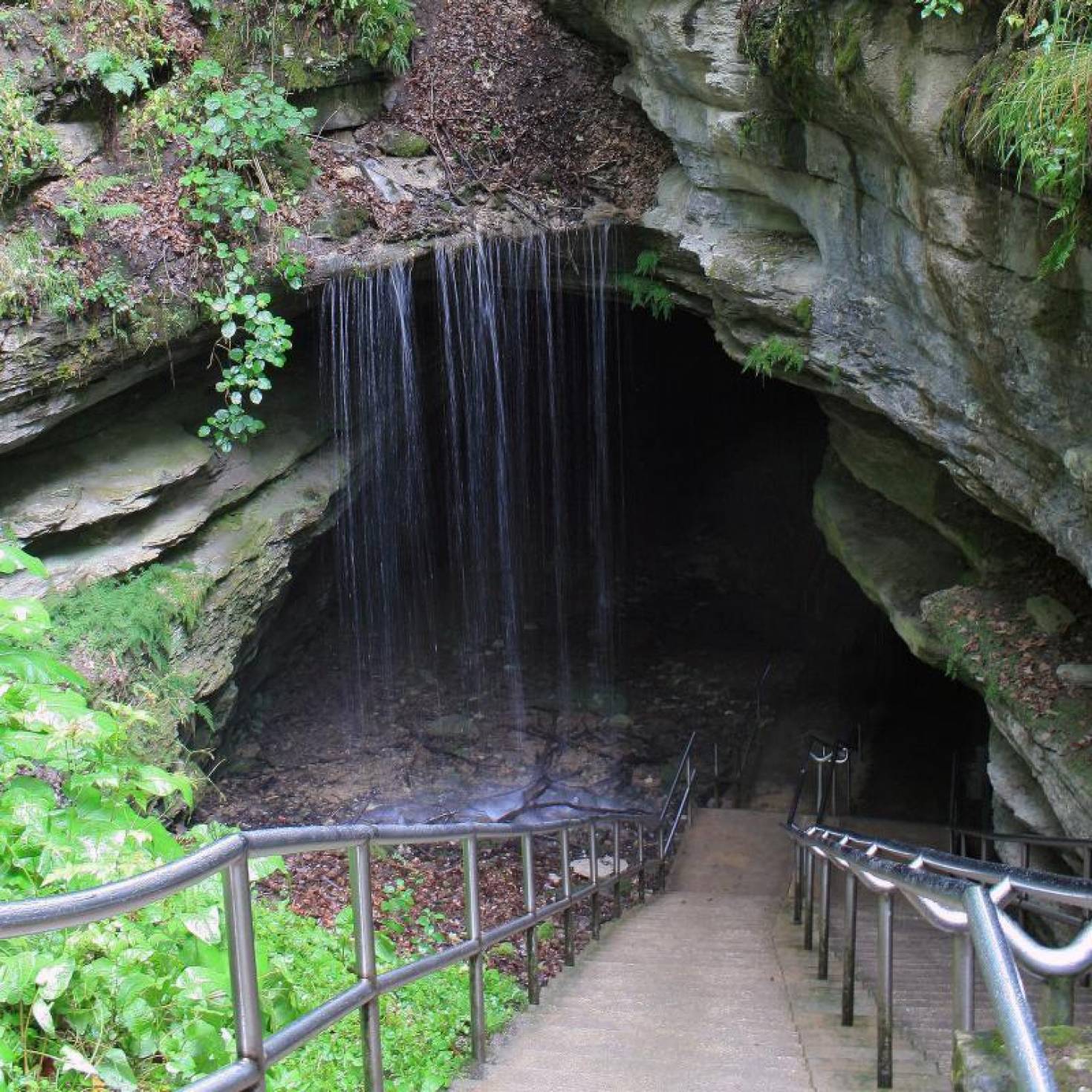 Positioned in central Kentucky near Brownsville, Mammoth Cave National Park is home to the world's largest cave system. Visiting the cave is to go on a hidden subterranean adventure. 400 miles of the complex maze have been explored, some of which is open to the public, and it's believed that may only be half of what's there. Not only can you walk through the limestone and sandstone walls with the aid of stairs and walkways, but if you're brave you can go on the 6-hour "Wild Cave Tour" that includes trudging through the sections less traveled. The trip is not limited to below ground though. There is a fascinating world above ground with the Green River, the River Styx Spring Trail, and enchanting forests. Crystal-clear pools, stone columns, high-elevation springs, thousands of bats, unimaginable blackness, and stone icicles and waterfalls make 52,000-acre Mammoth Cave a must to visit.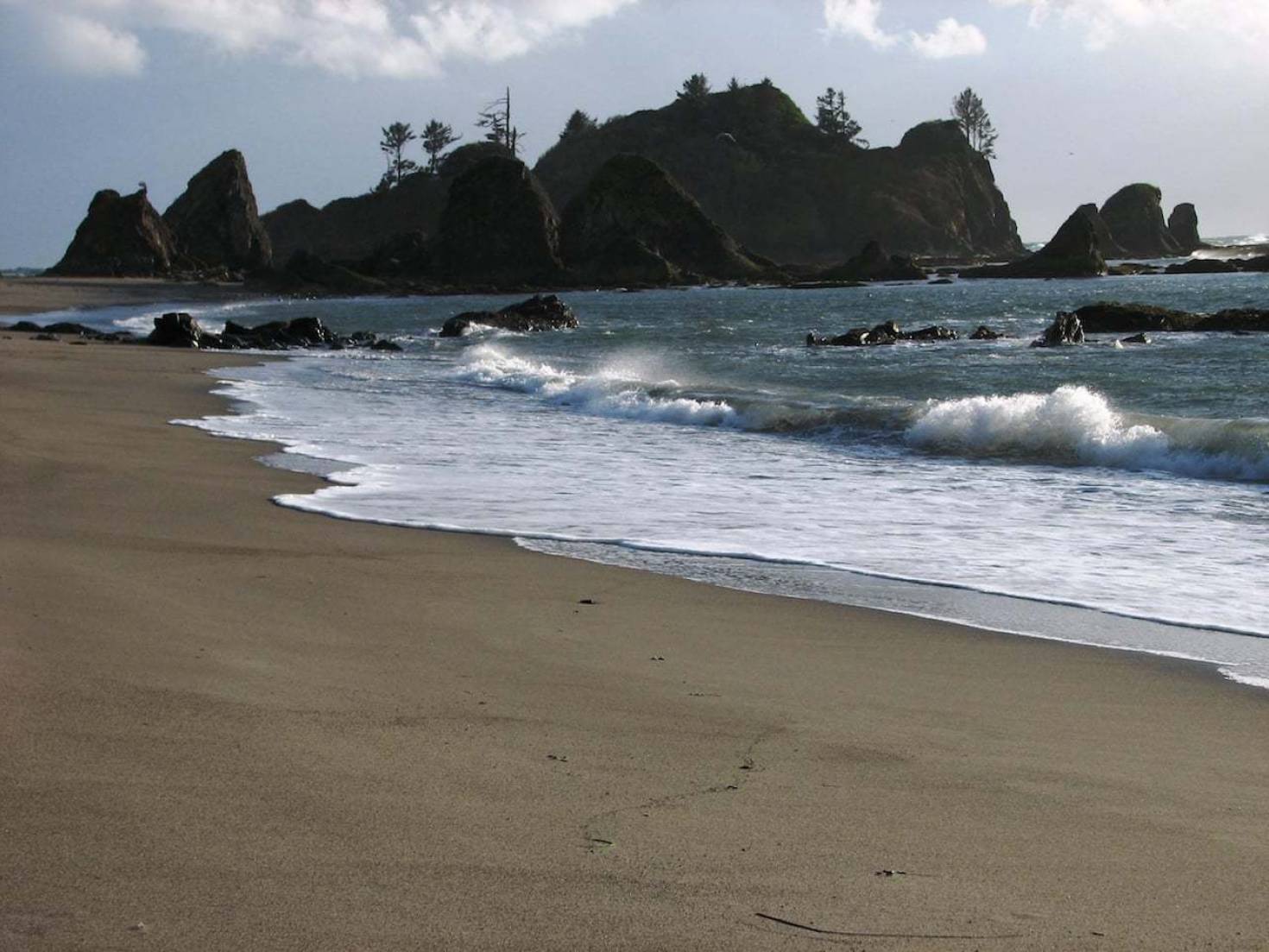 Standing in Washington on the Olympic Peninsula, Olympic National Park has 3 distinct ecosystems, or a little something for everybody. These include temperate rainforest, the Pacific shoreline, and subalpine forest and wildflower meadow. To get you started, inside the park is the glacier-capped Olympic mountain range including Mount Olympus (7,965 feet). The western portion includes the Hoh Rainforest and the Quinault Rainforest, 2 of the last examples of temperate rainforests in the contiguous U.S. If that's not enough, there's the impressive 73-mile Pacific coastline of untouched beaches, active tide pools, and captivating wildlife including bald eagles, gulls, sea lions, and seals. This 922,000-acre fantasyland is a special destination that deserves to be the ninth most visited national park in the nation as of 2019.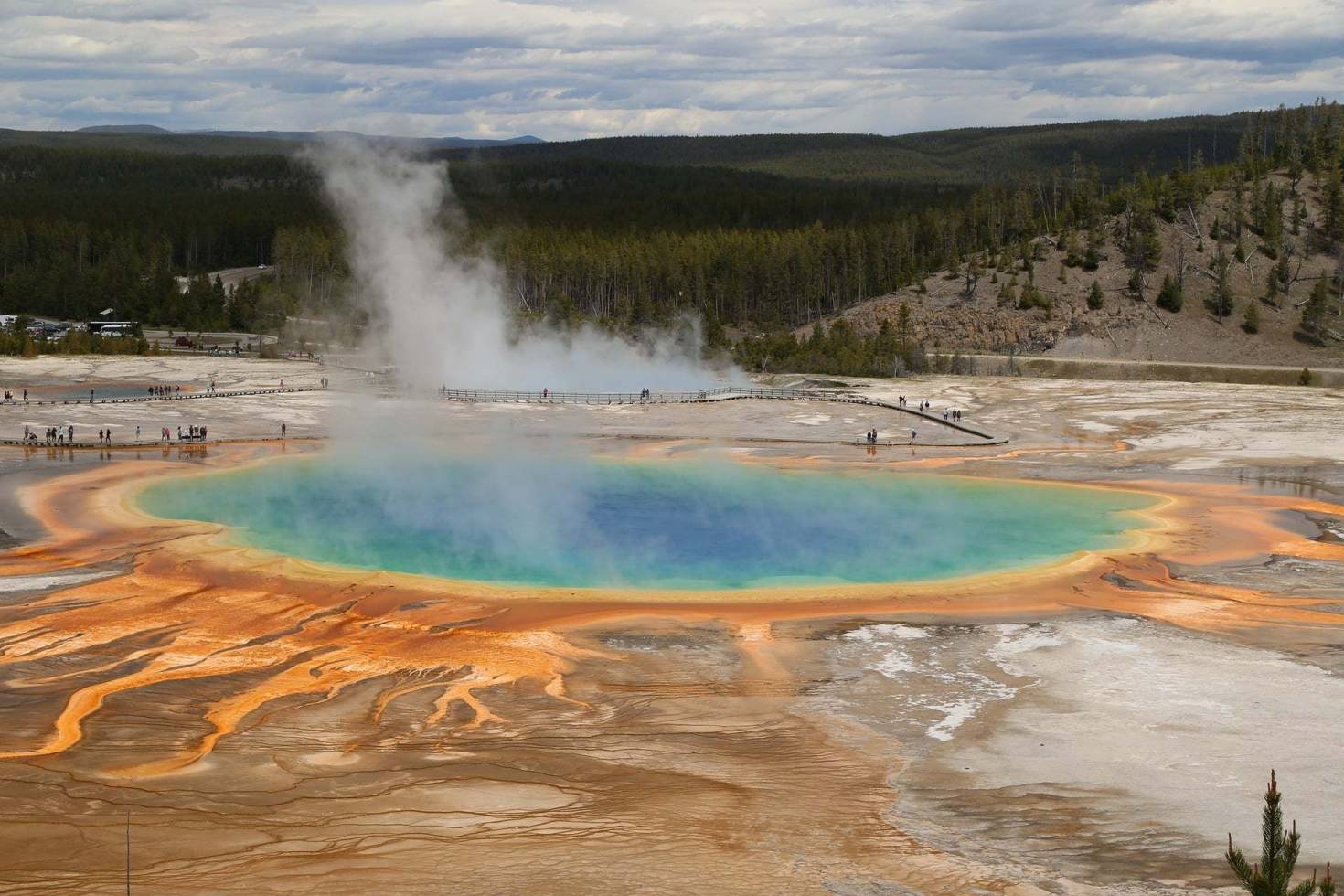 Extending across the states of Wyoming, Montana, and Idaho, Yellowstone National Park is the oldest national park in the nation and possibly the world. It's most famous landmark is Old Faithful, an iconic cone geyser that blasts 3,700 to 8,400 gallons of boiling water every 35-120 minutes. Yellowstone has a wonderful array of thermal features, landscapes, and wildlife. Fumaroles, mudpots, geysers, and boiling hot springs are part of the park's diversified makeup. Nicknamed the "American Serengeti," grizzly bears, black bears, elk, moose, eagles, wolves, and swans are just a few of the species of wildlife you'll encounter in the park. Yellowstone has the largest concentration of mammals in the continental United States. Among the landscapes available are the magnificent Rocky Mountains, the extravagant canyon in the Yellowstone, North America's highest altitude lake Yellowstone Lake, and a gigantic petrified forest. This colorful 2.2 million-acre wilderness is an experience you don't want to miss.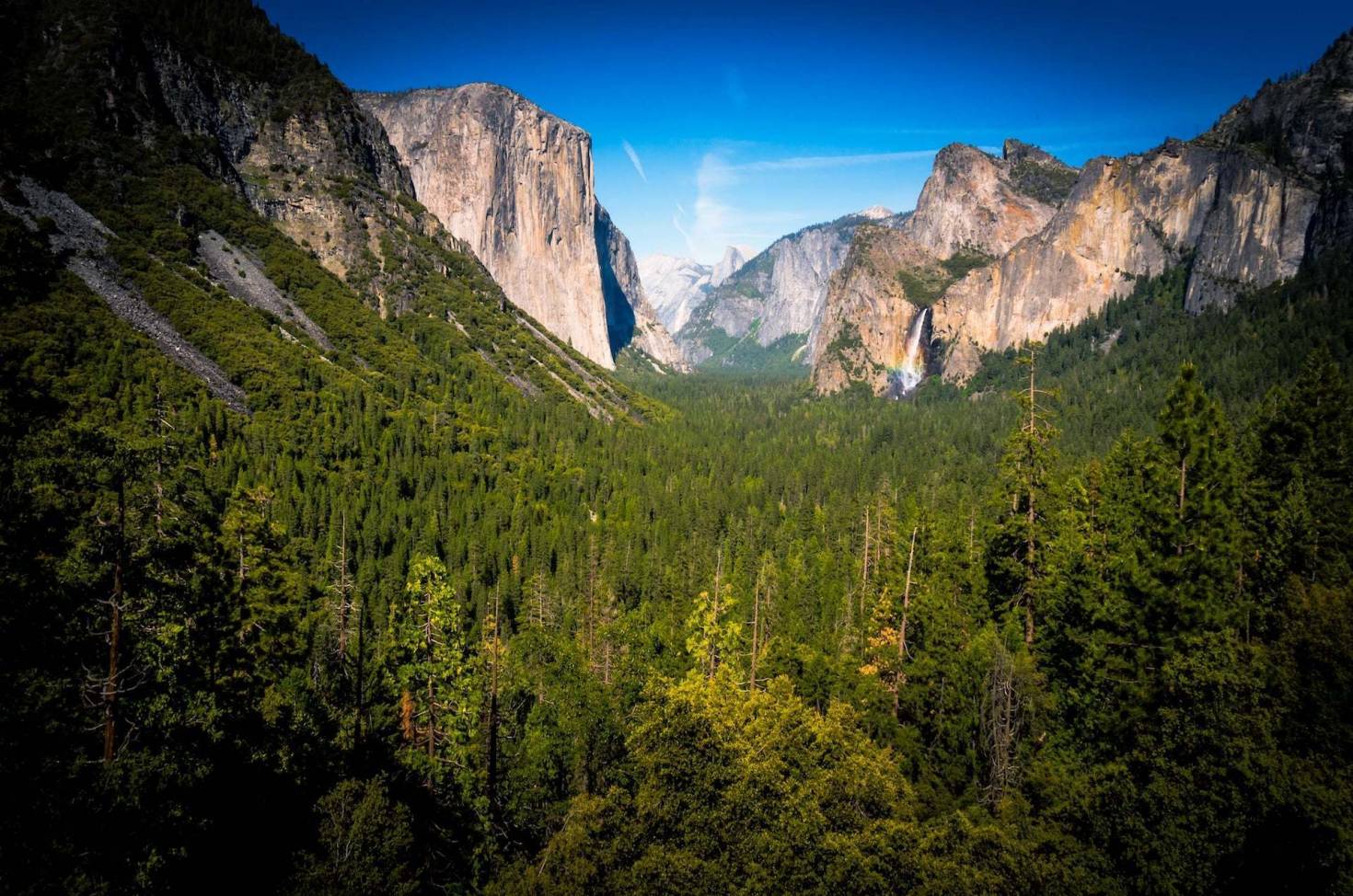 Located in central-eastern California near Mariposa, Yosemite National Park exhibits splendid scenery for the 14,000 daily summer visitors. This park is designated at almost 95% wilderness, a playground for hikers, bikers, campers, and explorers. Often visitors start their journey by heading to Yosemite Valley, a 7 square mile area exposing incredible mountain cliffs. Also featured is El Capitan, a vertical granite formation extending 3000 feet, and North America's highest waterfall Yosemite Falls (2,425 feet). Hiking, rock climbing, camping, fishing, and rafting are among the recreational activities available at Yosemite. To get a true sense of the park you can hike to Glacier Point or take a hike on the Panorama Trail overlooking Half Dome, El Capitan, and 2 waterfalls. At Yosemite Village, you can buy souvenirs, eat at a restaurant, and stay at the Ahwahnee Hotel. Along with all this, don't forget about the sequoia trees and behemoth glaciers that have persuaded some to call Yosemite the crown jewel of national parks. John Muir wrote, "No temple made with human hands can compete with Yosemite."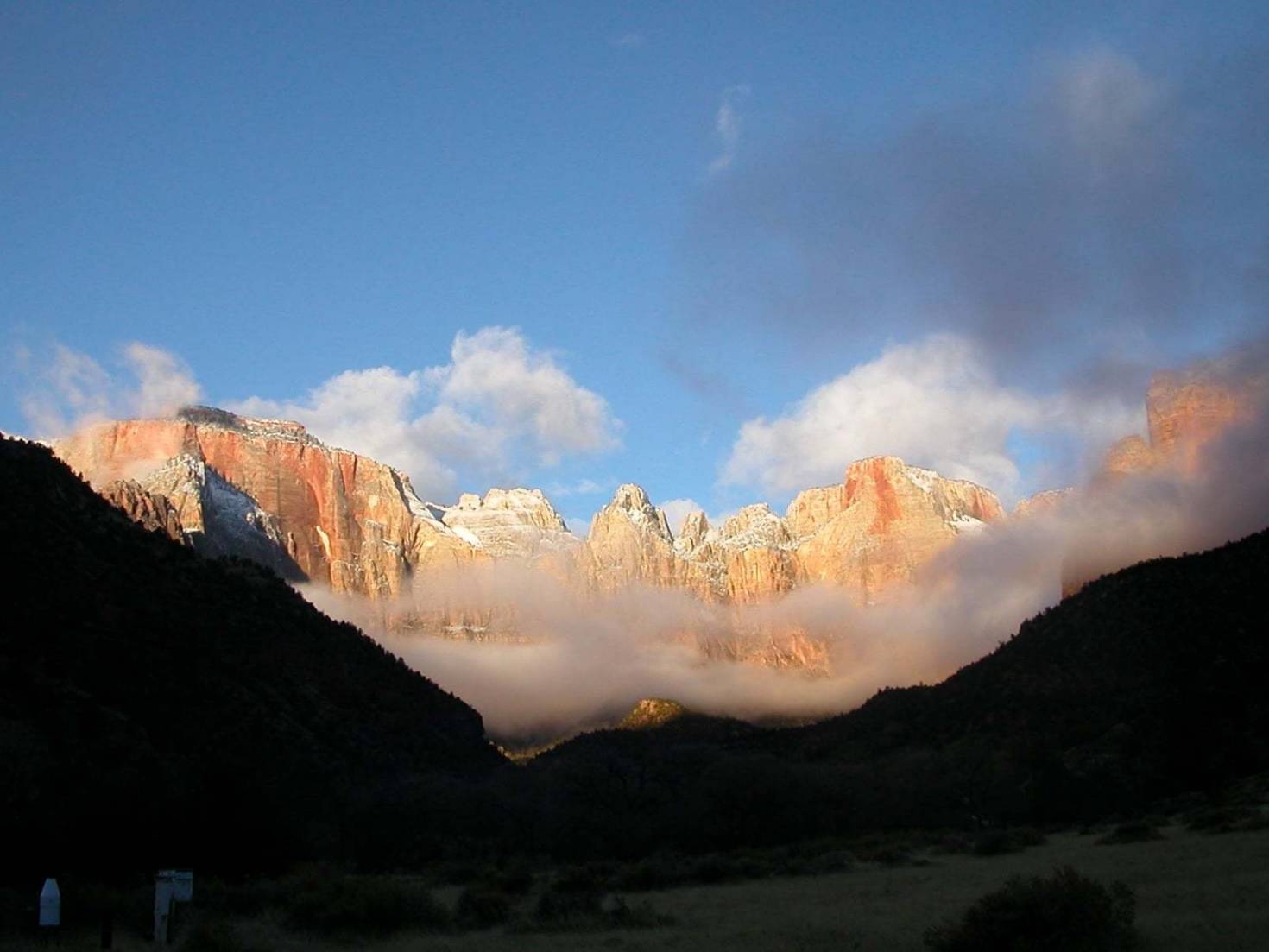 Found in southwestern Utah near Springdale, Zion National Park is a sandstone paradise with Zion Canyon being the focal point. You'll find gorgeous reddish-orange sandstone rocks within tropical waterfalls and babbling brooks along with 2,000 foot hanging valleys next to scorching deserts with intriguing wildlife. There are short hikes available to Weeping Rock and Emerald Pools, or a longer trek to Angels Landing providing an awesome view overlooking the canyon. The canyon was carved by the Virgin River over a long period of time. Most of the time the deep gorge is viewed from the bottom up. Vegetation is diverse here and may include willow, cactus, box elder, Douglas fir, juniper, along with over 900 species of plants that can't be found anywhere else in Utah. Climbing and canyoning are a couple of the activities that make this 146,000-acre wonderland so popular.
Life is short, so enjoy it to the fullest.John Walters
These ten national parks are great places to spend your vacation and quite possibly could blow your mind. Although all 62 national parks are extraordinary, this list could help you narrow your search. Enjoy your life to the fullest by experiencing these slices of heaven that are filled with rare beauty, unique landscapes, cultural resources, and have become national treasures. Happy traveling.
Article and Photos Courtesy of LandSearch.com